I'm trying to deploy a project in Amazon and I'm going crazy with this.
First, I tried with Ubuntu Linux, and tomcat installation based on several guides I readed. I end with a working Tomcat but my project don't end working/deploying.
Then, after several hours without success, I saw a topic about deploying using elasticbean ( Deploying to Amazon Elastic Beanstalk for 7.2? - CUBA.Platform )
I did all steps, and I ended with an enviroment, my project published, and so on. But I get a
HTTP ERROR 503
Problem accessing /backend/. Reason:
Service Unavailable
This is my web.stdout.log
web.stdout.log (135.7 KB)
I have my Procfile ( web: java -Dspring.profiles.active=amazon -jar backend.jar ) pointing to my backend.jar all in one zip as previous link explains.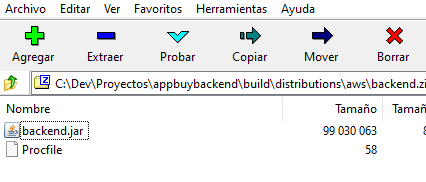 And this is my amazon-app.properties


Don't know what more to do.